Auction Sale Examples
If you thought auction was only suitable for properties in a poor state of repair, you're in for some news! Any property can be sold by auction. Quick, reliable and hassle-free.
Auction has changed.  Whilst traditional-style auctions are still considered the best way to sell run-down or dilapidated properties. Modern-style auctions are ideal for selling your average family home, or any other type of property. Yes it's true – any type of property can be sold by auction whether in a good or poor state of repair.
There's a growing move towards auction as a mainstream method of sale. Homeowners are recognising that auction is not only about the "homes under the hammer" style auctions you see on TV. The auction market has changed to cater for all types of properties, including normal family homes, modern apartments and even luxury homes!
One of the main drivers for auctions becoming mainstream, is to overcome the slow and inefficient nature of estate agency sales in England and Wales (sales falling through, gazundering etc.) that cause so much frustration for home sellers. Sooner or later something had to change! There have been a few attempts to seize upon this gap in the market; "quick sale" estate agents and homebuyer companies have emerged, but sales prices are usually well below market value and often not that reliable, despite what the advertising sometimes claims!
Now in mainstream use across the UK a modern adaptation to auction has successfully filled the gap.
Whilst there's no doubt traditional auctions are still considered the best way to sell properties in a poor state of repair. Modern style auctions are ideal for the sale for houses and flats in good condition – homes that might be considered "too nice" for a conventional/traditional auction.
How are modern-style auctions different from traditional auctions? In brief, properties sold through modern-style auctions benefit from all the usual advertising and marketing of a conventional estate agency sale, but the negotiation and transaction side of the sale is entirely auction based. So, it's just like an estate agency sale, without the frustration of sales falling through, or last minute price negotiations. For a more in depth explanation read our article about the difference between traditional versus modern-style auctions.

High value properties in good condition can be sold by auction too. Here's an example of a flat in London that sold by auction for £1,050,000. At a time when the London property market was very quiet due to COVID-19; the "London exodus" caused the supply of properties on the market to be considerably higher than buyer demand.  Despite market conditions in the area being very difficult for sellers, but the property sold very quickly and for a good price.
Property address:  Top Floor Flat, Wheat Wharf Apartments, 27 Shad Thames, London SE1 2YW
Sale price:  £1,050,000
Time taken to sell (exchange contracts):  34 days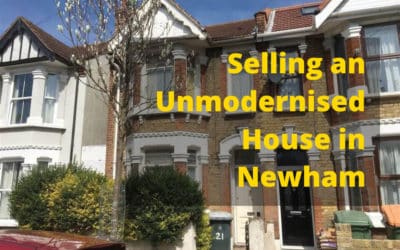 Thinking of selling your house or flat in Newham? To give you an idea of what to expect from an auction sale, we've provided some examples of properties that have recently sold at auction in Newham, London.
read more