Selling at auction: 154A Park Road, Crouch End, London N8 8JT
For sale in the McHugh & Co February 2017 auction: 154A Park Road, Crouch End, London N8 8JT
By Mark Grantham –  7th February 2017
UPDATE: 154A Park Road sold at auction on the 23rd of February 2017 for £450,000
If you're on the look out for a large one bedroom flat in Crouch End, then this is an ideal purchase.
Crouch End flat selling at auction
Lot 18 of the February McHugh & Co auction is 154A Park Road, Crouch End. The property is described as a ground floor, self contained leasehold flat, requiring modernisation with planning permission to extend.  The property is sold vacant.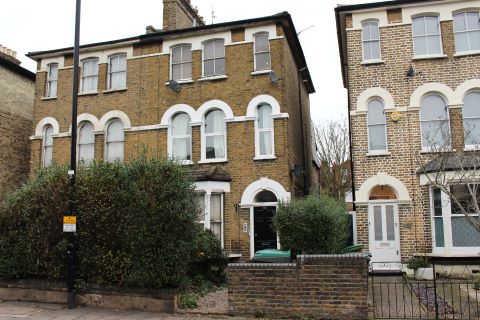 154A Park Road, Crouch End – Lot 18 – McHugh & Co
The lease is for a term of 125 years from 1st July 1982 at a ground rent of £105 per annum until 2024, rising to £135 for the next 30 years and £165 for the remainder of the term.
Planning consent has been granted by the London Borough of Haringey (dated the 2nd November 2016) for single storey side and rear extension and internal alterations to create a property with: 2 bedrooms, 2 bathrooms, open plan living room, dining room and kitchen. The property also benefits from sold use of the rear garden.
For more details and viewing times please contact McHugh & Co.
Google Streetview: 154A Park Road, Crouch End
The McHugh & Co auction is due to be held at The Montcalm Hotel, 34-40 Great Cumberland Place, London W1H 7TW. For directions visit:
Google Maps W1H 7TW
Other properties coming up for sale in Crouch End
68A Rokesly Avenue, Crouch End, London N8 8NH
Leasehold self-contained ground floor flat with two rooms. Sold vacant.
Guide price: £365,000 plus
Lot 24 –
McHugh & Co auction
to be held on the 23rd of February 2017
68 Rokesly Avenue, Crouch End, London N8 8NH
Leasehold self-contained 1st floor studio flat with AST. Sold vacant.
Guide price: £140,000 plus
Lot 25 – McHugh & Co auction to be held on the 23rd of February 2017
Flat 1, 240 Ferme Park Road, Crouch End, London N8 9BN
Leasehold ground floor flat, with one bedroom, unmodernised. Sold vacant.
Guide price: £275,000 Plus
Lot 141 – Savills auction – to be held on the 13th of February 2017
Flat 2, 240 Ferme Park Road, Crouch End, London N8 9BN
Leasehold ground floor studio flat. Sold vacant.
Guide price: £275,000 Plus
Lot 141 – Savills auction – to be held on the 13th of February 2017
Contact McHugh & Co auctions
Find London property auctions
Thinking of selling? Check out the upcoming London property auction dates: