London Property Auctions
Complete list of future London property auction dates for October, November and December 2021. Access to London auction catalogues and tips for selling your property at auction in London.
London Property Auction Dates: October, November and December
There are 13 residential London property auctioneers and 2 commercial auctioneers that regularly hold auctions at London locations, each typically hosting an auction 6 to 10 times a year. The number of properties listed for each auctioneer ranges from 50 to 200 per auction. When selling a London property at auction it can be useful to look through past auction sales (all of the London auctioneers publish their results online), this will help to determine which auctioneer is best suited to selling your property.
Last updated by Mark Grantham on 4th October 2021
The table below is updated on a weekly basis to show forthcoming property auctions for the main London property auctioneers, for the year 2021. Clicking on the auctioneers name (first column) will take you to a page with contact details for the auction company.
COVID-19 UPDATE – Please be aware that some of the London auction dates listed below are subject to change. Please check directly with the auctioneer for latest details. To find the auctioneers contact details click on the name listed below to view their contact page.
If you're viewing on a mobile phone, swipe the table to see future auction dates.
All the information provided here is based on the latest available information from London property auctioneers. Auction Link cannot be held responsible for any inaccurate information on this page. We recommend you contact the auctioneer directly for latest auction details.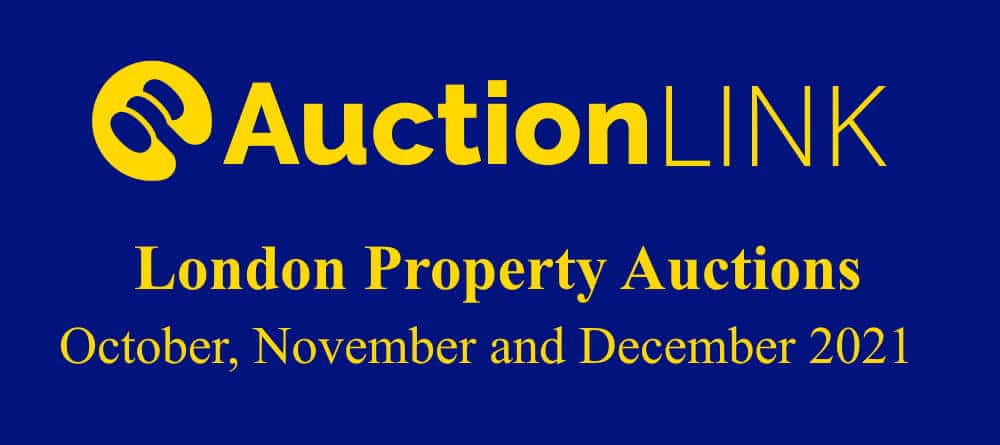 If you're considering
selling your property at auction
, there are 6 key factors to take into consideration when choosing between London auction companies. Even if you already have a preferred auctioneer it's worth taking some time to read these pointers, even if it's just to confirm your choice!
Costs: Commission rates and other fees for London property auctioneers are usually about the same across the board (commission is a percentage of the sale price) it's typically in the region of 2% or more (plus VAT), and is only paid if the property successfully sells. Some auctioneers also charge a "catalogue entry fee" of about £500 which may need to be paid upfront, but it's quite common for a London auctioneer to accept payment after the auction, only if the property successfully sells.


Reserve price:
Much of the time a seller's mind is made up purely based on the reserve price. But we urge caution; just as an estate agent might suggest a high asking price to win a seller's instruction, and auctioneer might suggest a high reserve price to win a seller's instruction too. Whilst it is important not to accept too low a reserve price, it's also important not to base your decision on the reserve price alone. Although it doesn't happen so much for the London property auctions, a smaller or less reputable auctioneer that's desperate for business might be happy to suggest an unrealistically high reserve price just to win your business, but in the long run you might end up selling for less. You can
read more about reserve prices here
.
Auction dates: If you're in a hurry to sell your property, you might need to choose the soonest possible auction. The above table shows auction dates for forthcoming London property auctions. Note that the deadline for entries will typically be about 4 weeks prior to the auction. So if auction day is the 15th of November, you will need to have instructed the auctioneer by the 15th of October.
Location: Some London property auctioneers have a bias towards different areas of London. For example, Strettons covers all of London but has a particularly strong presence in East London. By looking at past auction lots you will get a sense of which auctioneer has the best history of selling in your area.
Success rates & reputation: All of the London property auctioneers publish their auction results online and some have facilities to search for past property sales by postcode. It can be useful to compare recent sales, but be sure to check details about tenancy, lease length, condition etc. These details might not be immediately obvious but they make all the difference to an eventual sale price. Auctioneers also publish a "success rate" for properties sold, for most auctioneers this will be in the region of 70% to 80%. A good way to judge the credibility of an auctioneer is to look at their clients; some of the London auctioneers list their big-name clients at the start of the catalogue and others state client details in the lot description. If an auctioneer has housing authorities, asset managers or property investors listed as clients then that helps make a judgment about their reputation.
Property type: Whilst it will be obvious to tell the difference between the commercial property auctioneers versus the residential auctioneers, many of the auctioneers have a niche focus too. For example, some London auctioneers have a strong following of buyers for mixed-use properties (part commercial and part residential) whilst others have a stronger following for HMO properties (house of multiple occupancy). By selling through an auctioneer with a strong focus in a particular property area you will benefit from their marketing lists to investors, developers or owner occupiers who have previously registered an interest in the particular type of property.
In summary, it's worth taking some time to look through past auction results to check the success rates for similar property sales. This isn't something that's so easy to do with estate agents – the data doesn't exist. But thanks to the open and transparent nature of public auctions, there's plenty of information available to help make an informed decision.
When is the best time sell a property at auction?
We're often asked if there is a particularly good time of year to sell a property at auction. The London property auction dates pretty much answer that question. If you look at some of the bigger London auctioneers that hold 10 auctions a year, you will notice that the only dates in 2020 when they don't hold an auction is January and August. Throughout the rest of the year the the number of lots entered into auction are fairly consistent, month by month. There are usually no auctions in January because of the December slow down and very few on August because of the summer holidays.


Question from Michael, London NW1
I've been trying to sell my buy-to-let investment in north London for close to half a year without any success. I signed a 5 year deal with the council which has 2 years left to run. What are the chances of selling at a London property auction?
Answer from Auction Link
The additional 3% stamp duty on buy-to-let (and second homes) plus the incoming "section 24" legislation which restricts the amount of tax relief that landlords can claim on their mortgage interest payments makes selling a tenanted property trickier than ever. But if you price the property correctly you should be able to sell without too many issues. Auction is a tried and test method of selling tenanted properties and can often be far more effective than selling through and estate agent. Despite the new taxes, there's no shortage of investors attending London property auctions to purchase good quality stock, and because many of these investors take a longer term view of the market you can often achieve surprisingly positive results.
Question from Vicky, Sheffield S10
I'm not sure whether to sell my Sheffield property with a regional Yorkshire auctioneer or a London based national auctioneer? If I sell with a London property auctioneer I fear I'll miss out on the local Sheffield based buyers who might find it difficult to attend the auction room in London?
Answer from Auction Link
That's a good question and we're regularly asked the same from property owners in other parts of the UK. To answer your specific question about local Sheffield buyers finding it difficult to attend a London auction room, the first thing to mention is that prospective buyers can bid by telephone or proxy bid, so will not be excluded from bidding on auction day.
The fees for a London based national auctioneer and a regional auctioneer will usually be about the same. But a local auctioneer can often be a more affordable option for very low value properties e.g. a single lock-up garage, where the minimum fee may be lower.
The marketing reach for a national auctioneer will be wider, contact will be made with London based (and in some cases international) investors and developers as well as local registered buyers who may be prospective owner-occupiers. And some national auctioneers have a strong following for certain property types e.g. mixed-use or HMO's, so will be able to target these buyers as well. Both types of auctioneer advertise on the property portals too (e.g. Rightmove/Zoopla) although some of the smaller local auctioneers often advertise on just one or the other.
Auction Link focuses on helping property owners who are interested in selling their property at auction, but if you have any questions about buying at auction we're happy to assist you, please feel free to
contact us
.
View a PDF
directory
of London property auctioneers.