Selling at Auction
Tips & Advice
Public auction sale is one of the simplest ways to sell a property, but there is some preparation required to ensure a successful sale. This article provides some useful tips and advice on how to prepare for a successful auction sale.
This guide is intended to help property owners by providing information on the suitability of auction for different types of property and by offering tips on how to ensure a successful sale at the best possible price. You might also find the property auction FAQ's section to be useful. 
Updated by Mark Grantham on 14th January 2021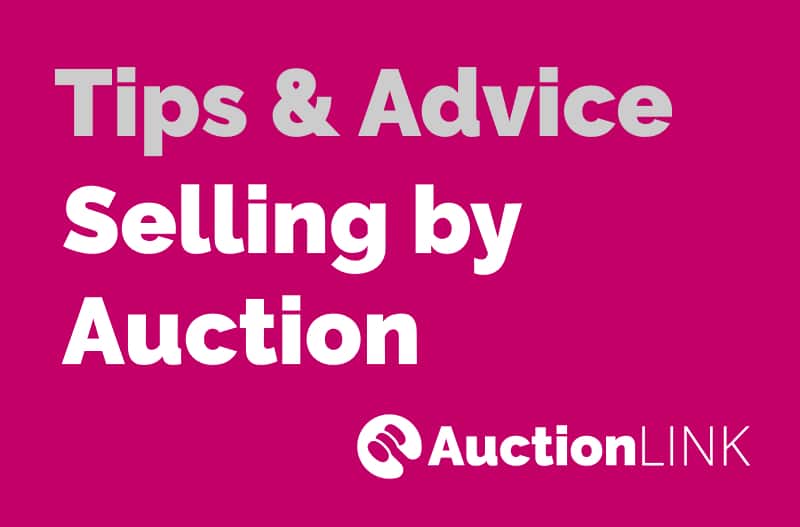 Before looking at the details of how to achieve the best sale price at auction, it's worthwhile considering whether auction is suited to your property type. It might be that you will achieve a better outcome by selling with an estate agent.
Any property can be sold at auction* but some properties are better suited than others. In fact, properties requiring modernisation or with development potential sell best, often achieving sale prices far in excess of estate agents suggested asking prices. Unless you're particularly motivated to sell quickly, we would suggest that high-end/luxury properties with no potential for improvement or development are usually better off sold through an estate agent.
We've provided more information about sale prices achieved at auction and what type of property sells best at auction versus selling through an estate agent.
*Any property can be sold at auction, unless there is a legal restriction – for example some retirement properties have a clause in the lease excluding the property from sale at auction.
There are hundreds of property auctioneers in the UK and deciding which to choose is no easy task. We've provided some tips to help you choose a suitable auctioneer for your property.
Fees: The fee structure for property auctions is more or less the same as estate agents. Auctioneers charge a commission which is usually around 2%+VAT of the sale price, and that's only paid if the property successfully sells. In addition, most auctioneers will also charge a fixed fee of about £500 – this is often referred to as the "catalogue entry fee". Some auctioneers ask for this payment in advance of the auction, whilst others will be happy to accept it after the auction, only if the property successfully sells.
There will also me a minimum selling fee which applies to low value properties. That fee is usually in the region of £2,000. So if your property sells for £80,000, rather than paying the 2% commission of £1,600+VAT you would pay the minimum fee of £2,000+VAT.
When choosing an auctioneer, as with all services, it's not always advisable to choose the lowest price. It's often the case that the fee "more than pays for itself". Property owners often achieve a better sale price by using a good quality auctioneer, rather than trying to save on fees and selling for less.
For more information about auction fees please view our page about the costs involved in selling property at auction, where there are also tips on reducing the auction fee.
Reserve price: The reserve price is an important consideration when choosing an auctioneer – the reserve price is the minimum price you will accept to sell your property for. The temptation for property owners is to instruct whichever auctioneer suggests the highest reserve price. While this is understandable, it's important to be realistic if you are serious about selling. It's sometimes the smaller auction houses that suggest higher reserve prices in a bid to win a sellers instruction, but if there is not enough interest generated the auctioneer will advise the seller to either reduce the reserve price prior to auction day, or the property might risk failing to sell.
Dates: If you're in a hurry to sell, or need to sell by a particular date your key criteria will be the auctioneer with the soonest (or most convenient) auction date. Bear in mind that the total period of time, from booking a property into auction until the sale completes is about 8 weeks, as explained in the auction process and timescales section.
Most auctioneers hold an auction 7 to 10 times a year, we've provided a full list of auctioneers in the UK and details of upcoming London auctions.
Geography:  In terms of location, auctioneers are generally categorised as either local, regional or national. A local auctioneer will typically operate in a city, a regional auctioneer in a county (or counties) and most of the national auctioneers are London based, but as the name suggests they operate across the UK. Whilst local and regional auctioneers are able to generate a good level of interest and achieve a fair sale price, it can also be worth considering using a London based national auctioneer to target a broader audience of buyers, which often results in a higher sale price.
Past performance:  If you've narrowed your preferred auctioneers down to a list of two or three, it's worth spending some time looking at their recent performance. All auctioneers list their results online, so you will get to see their performance in terms of the "overall percentage of lots sold" as well as the sale price achieved for each lot. Looking at comparable sales with give you a good idea of a likely sale price for your property.
Type of property:  Your choice of auctioneer can be determined by the type of property you are selling. If you're selling a commercial property or mixed use (part residential and part commercial) property then it's worth talking to a commercial auctioneer, although they will usually only offer a decent reserve price for properties yielding in excess of 8%. For other non-standard property types e.g. HMO's, tenanted, ex-local authority and short-lease properties, there will be some auctioneers who have are better positioned than others. For example, some auctioneers actively target HMO property owners and in turn they have built up a strong following from HMO investors.
If an estate agent has been marketing your property, it's important to check that you will not be liable to paying them a commission if the property is sold at auction.
In most cases, where an estate agent has been instructed on a sole agency basis, unless the agent is served with the required notice, you will be liable to paying commission to the estate agent as well as the auctioneer if the property sells at auction. This is the case even if your estate agent hasn't conducted any viewings or put up a "for sale" sign. The fact that they have a contract is enough for them to claim their commission.
In cases where your estate agent has been appointed on a joint or multi agent basis, you will usually only pay commission to the agent (or auctioneer) who successfully sells the property. But it's worth checking any agreements you've signed before instructing an auctioneer.
Although most estate agents operate to a high professional standard, don't be surprised if they attempt to talk you out of instructing an auctioneer, as it means they will lose the chance of earning their commission!
When you've shortlisted two or three of your preferred auctioneers it's worth considering the reserve price a step further, as the reserve price you agree will depend on the outcome you're looking for. If you require a sale at the best possible price (or if you need to clear a particular price) then you may need to ask the auctioneer for an increased reserve price. For the auctioneer, there will be a balance between (1) winning your instruction (offering a high reserve price) and (2) ensuring the property has the best chance of selling (setting a low reserve price). As such an auctioneer will not allow a property to be entered into auction if the reserve price is too high, but there will be a middle ground where both the seller and auctioneer are happy with a fair, but higher than usual reserve price.
On the other hand, you may not be too concerned about achieving the best possible sale price, but want the property to be sold as soon as possible. In this case the reserve price can be set on the low side, but not low enough to give the property away if it sells at the reserve price.
One major advantage of setting a low reserve price is that the guide price can also be set low. By law the guide price has to be set within a 10% range of the reserve price, auctioneers almost always set the reserve price 10% below the reserve price in order to generate interest. Therefor a low reserve price means a low guide price, which will result in increased demand for the property, leading to a higher eventual sale price.
If you're in a situation where you can set a low reserve price, bear in mind that because the property has a higher chance of selling, the auctioneer will almost certainly receive their commission, so it's a good opportunity to ask for the catalogue entry fee to be waived.
The auction agreement is much the same as an estate agent's agreement, giving the auctioneer your instruction to market the property for sale and in return the auctioneer will be paid a fee if the property successfully sells.
You will only be in a position to sign the auction agreement or "terms of business" as they are sometimes described, once you have agreed a reserve price. The agreement is your instruction to the auctioneer to enter the property into the next auction catalogue and begin marketing the property, so it needs to be signed and returned to the auctioneer in good time, usually 4 weeks before the auction date.
If you're selling a particularly saleable property, a high value property or you have agreed a low reserve price then there is good reason to try and negotiate the auctioneer's entry fee or commission. It's not very often that a seller is able to negotiate a commission rate below the 2% level, but for the right property it may be possible for the auctioneer to waive any other fixed costs.
Most properties entered into auction do successfully sell, the average success rate is in the region of 70% to 90%. However, it's worth discussing with the auction what would happen in the event that the property failed to sell. If you decide to enter the property into a subsequent auction, you should usually not expect to pay a catalogue entry fee again, but the auctioneer might require that a lower reserve price is set, to ensure the property has a better chance of selling. You could also that if the property fails to sell in the first auction, some extra marketing will be done to ensure it sells in a subsequent auction e.g. a full page in the catalogue, or a special feature in their email newsletter to prospective buyers.
If there is a chance that you will need to withdraw the property from sale before the auction, then it's worth requesting a reduced withdrawal fee. For most auctioneers the withdrawal fee ranges from between half of the commission amount to the full commission amount (based on the reserve price). That takes into account the resources the auctioneer has put into marketing the property, so it's reasonable to expect to pay something if change your mind about selling. If you explain to the auctioneer the reasons why you might need to withdraw the property from auction, then it will help in your negotiations.
The usual timescale for completion is 4 weeks from auction day. Completion is the time when keys, funds and ownership change hands – the sale is complete! If you're not living at the property then that's plenty of time, but it could be quite stressful if you or your family are living at the property – it means you need to organise your onward move and vacate the property in just 28 days. And from the buyers perspective, whilst most buyers are keen to complete as soon as possible it can always help to offer prospective buyers the option of some extra time to organise their finances. In fact a lot of property traders who flip properties into an auction sale offer a 6 week completion as standard. This extra "breathing space" can actually help achieve a higher sale price – it provides the buyer more time to find the most affordable financing for their purchase, so gives them more confidence to bid higher. So whenever possible it's worth asking your solicitor to amend the contract with wording to the effect of " 6 week completion or earlier by mutual agreement".
The
auction legal pack
is a key part of the sale, and you can't expect any prospective buyers to bid without it. It's important that your solicitor prepares the legal pack as early as possible to ensure all documents are available before the auction.
Prefer to talk?
Need help deciding if auction is right for you? Call 0800 862 0206 or request a call back for later.