Sell a Manchester Property at Auction
Thinking of selling your Manchester property at auction? Read our useful guide to Manchester property auctions – how to find a Manchester property auctioneer, save on auction costs and achieving a successful auction sale.
This guide is intended to help Manchester homeowners who may be considering selling at auction. The guide includes contact details for Manchester property auctioneers, information about costs and case studies of auction sales.
Last updated by Mark Grantham on 30th January 2021
Most of the time homeowners sell their property at auction because they either need a quick and reliable sale or their property is suited particularly well to auction i.e. in need of refurbishment or with development potential.
An auction sale doesn't suit everyone's circumstances; if you're not in a hurry and your property isn't suited to an auction sale then you might be better off with a more managed sale through a local Manchester estate agent. Otherwise you risk selling below market value for the reserve price recommended by the auctioneer.
Manchester property auctioneers charge about the same as you might expect to pay a high street estate agent and some work on a no sale no fee basis. Read on for more information about costs for selling a house at auction.
Finding an auctioneer to help sell your Manchester property is different from finding an estate agent, mainly because there are far fewer auctioneers than there are estate agents – so it's not a case of finding an auctioneer on the high street. A good way to find a suitable auctioneer is to look at what's on the market for sale by auction in your area, then contact several of those auctioneers and request a quote. In the first instances you should request a reserve price and a details of the auctioneers fee.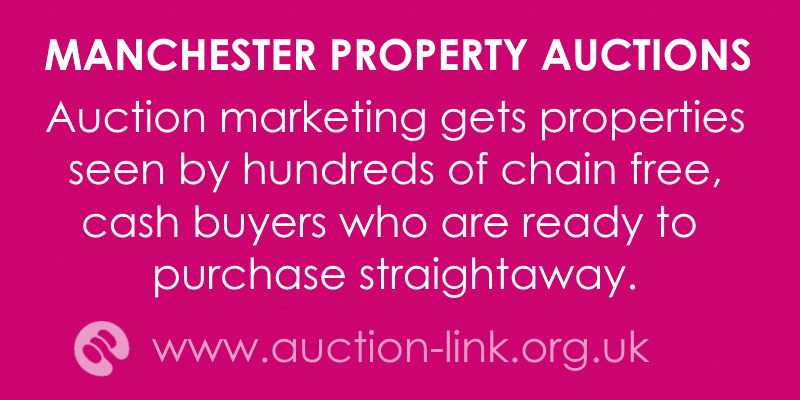 If you're considering selling your Manchester property at auction you may wish to contact the following auctioneers.
Edward Mellor Auctions
Address: 65-81 St Petersgate, Stockport SK1 1DS
Phone: 0161 443 4500
Auction House North West
Address: 309A Garstang Rd, Fulwood, Preston PR2 9XJ
Phone: 0800 050 1234
Auction House Manchester
Address: 16 Salmon Fields, Royton, Oldham OL2 6HT
Phone: 0161 925 3254
Pugh
Address: 4 The Parks, Newton-le-Willows WA12 0JQ
Phone: 0345 505 1200
SDL Auctions North West
Address: Peter House Oxford St, Manchester M1 5AN
Phone: 0161 774 7333
North West Property Auction – IAM Sold
Address: Village Urban Resort, Rochdale Road, Bury, BL9 7BQ
Phone: 0161 300 7100
Properties are sold at auction for all sorts of reasons. And very often an auction sale can achieve better results than a private treaty (estate agent sale), particularly for properties with a high rental yield or potential for improvement.
Selling a tenanted house – Sean became an "accidental landlord" several years ago when he moved into his girlfriends flat in the Northern Quarter of Manchester. Sean's house on Holker Close, Manchester M13 was rented via the Manchester City Council to tenants on a 5 year agreement and the rental yield proved very attractive to local property investors at auction. Tenanted residential properties sell particularly well at auction if the rental yield is in the region of 7% to 9% and sale results can be better than a sale through an estate agent.
Selling an inherited property – Christopher had recently inherited a 5 bedroom detached house in Salford. The property was in a poor state of repair and although there had been interest from prospective buyers through a local estate agent, there had been no firm offers. As soon as grant of probate was issued Christopher decided to instruct a Manchester auctioneer and a sale was achieved within 6 weeks for a price far in excess of expectations.
To understand what price properties sell for at auction it's useful to view past auction sale results, as follows:
Property: 3 Beresford Street, Moss Side, Manchester, Lancashire M14 4SB
Auction sale details: Terraced house on two floors with 5 rooms. Vacant possession. Sold for £116,000 in July 2017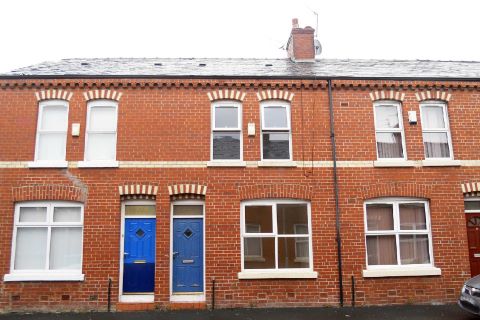 Property: 58 East Lancashire Road, Worsley, Manchester M28 2TH
Auction sale details: Semi-detached house on two floors with 5 rooms, garden and garage. Sold in an assured short-hold tenancy with an income of £11,940. Sold in July 2017 for £170,000.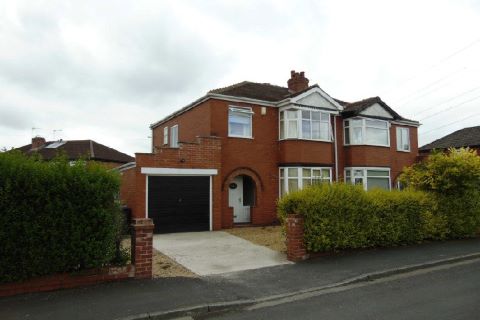 Property: 65 Birchfields Road, Manchester, Lancashire M13 0XQ
Auction sale details: Leasehold, semi-detached house on three floors arranged as 3 self-contained flats. Sold tenanted for £165,000 in September 2017.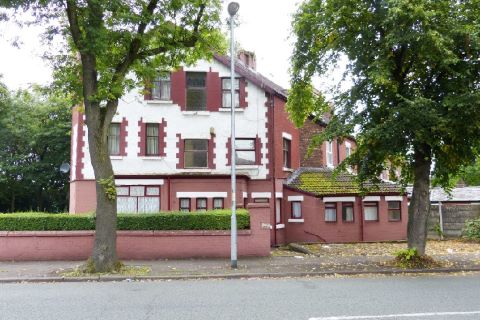 Greater Manchester spans almost 500 square miles and is the third most populous urban area in the UK. Manchester is located in the north west of England, in the county on Lancashire. The 10 districts of Manchester are: City of Manchester, Stockport, Tameside, Oldham, Rochdale, Bury, Bolton, Wigan, Salford and Trafford.
Prefer to talk?
Need help deciding if auction is right for you? Call 0800 862 0206 or request a call back for later.