Tips for Selling a Property with Japanese Knotweed
Selling a property with Japanese Knotweed can be a difficult because buyers will either need to be cash purchasers or have specialist lending.  An auction sale is often the preferred route for selling a property with Japanese Knotweed.
If you discover your property or land has Japanese Knotweed growth then you'll need to take action – it cannot be ignored.  Even if you treat or remove the Japanese Knotweed before selling, by law you will still need to let the buyer know there has been a history of Japanese Knotweed on the property.  This guide explains why Japanese Knotweed is a problem and provides some options for dealing with it, including the process for selling a property with Japanese Knotweed at auction.
Last updated by Mark Grantham on 19 January 2021
NEWS UPDATE: Landowners can claim damages if plant invades their property, court rules
A court of appeal hearing in July 2018 means landowners will be able to claim damages if Japanese Knotweed has encroached thier property.  If it can be proved that knotweed growing in a home or garden originated on an adjoining property, that owner could be held liable for the cost of its removal and any loss of value. The decision is expected to have major implications for Network Rail because Japanese Knotweed can sometimes be found along railway lines accross England & Wales. Read the news article here.
Why is Japanese Knotweed a problem?
In its natural setting Japanese Knotweed (Fallopia Japonica) survived extremely cold winters, sometimes being covered by deposits of volcanic ash, storing energy deep in it's roots. But in Britain, with milder and brighter conditions the weed can grow unabated – the rate of growth for Japanese Knotweed during the summer months in Britain can be up to 20 centimeters every day. The weed can even grow through concrete and tarmac with roots as long as 3 meters deep. It's the roots that are the biggest risk to property, causing serious damage to the foundations.
There can be serious consequences if you ignore Japanese Knotweed; apart from severely reducing the value of a property, it can also be criminal offence. The
UK Government website
provides details on the penalties for ignoring Japanese Knotweed growth on your land.
How to identify Japanese Knotweed…
If you suspect that your land or property has Japanese Knotweed growth, you should carefully carry out a closer inspection. It's important not to disturb the weed or risk spreading it in any way. If a closer inspection cannot be carried out without the risk of spreading the weed, then it's advisable to call a specialist Japanese Knotweed removal company.
The key things to look for when identifying Japanese Knotweed are:
• fleshy red tinged shoots when it first breaks through the ground
• large, heart or spade-shaped green leaves, with a flat base and tapered point
• leaves arranged alternately (in a zig-zag pattern) along the stem
• purple coloured nodes (the point between the stem and the leaf)
• a hollow stem, like bamboo
• dense clumps that can be several metres deep
• clusters of cream flowers towards the end of July that attract bees
• dies back between September and November, leaving brown stems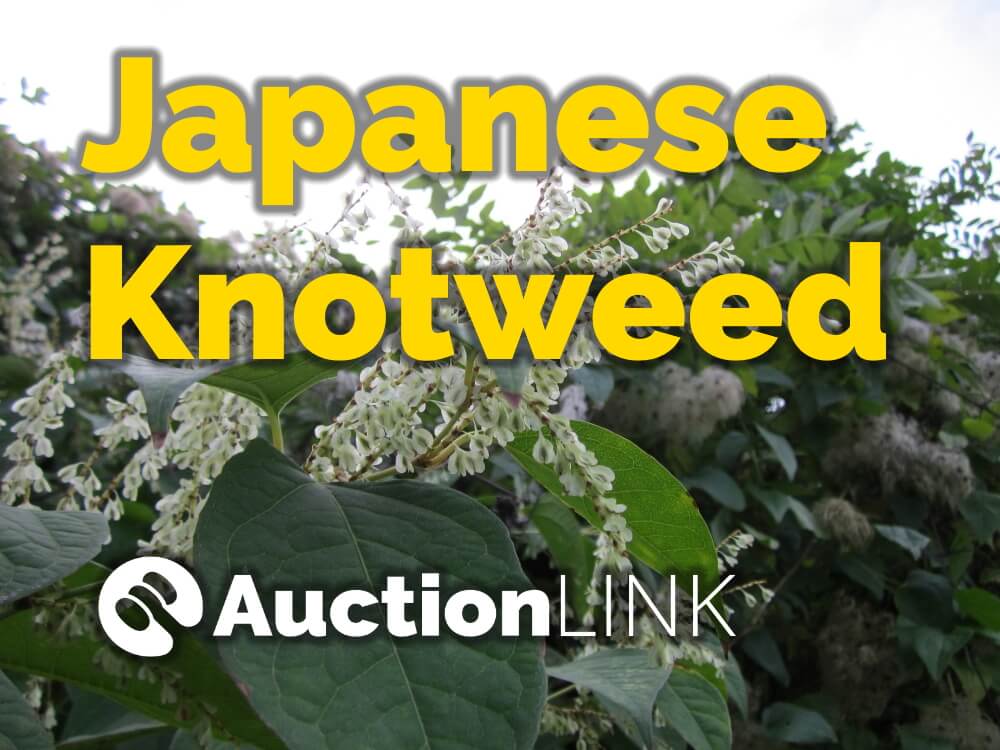 If there are signs of Japanese Knotweed, or even if you suspect it based on your inspection then you should contact a specialist Japanese Knotweed company as soon as possible.
Treating or removing Japanese Knotweed
If you're in the process of selling your property and the buyer's survey reports that there's Japanese Knotweed growth, then the chances are the sale will fall through. Most mortgage lenders will at the very least need evidence that a treatment plan is well underway and some won't lend unless the weed is completely eradicated. Your options at this stage are either to sell to a cash buyer (see below) or begin the process of treatment and removal.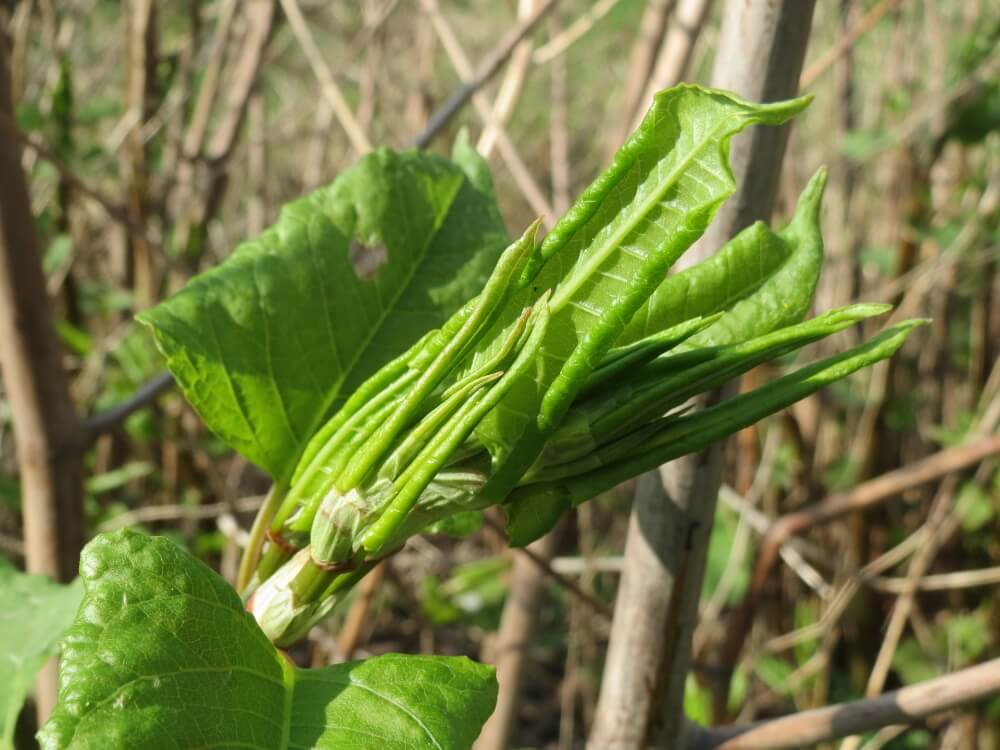 If you are not in a major rush to sell your property, then it will usually be more cost effective to treat the Japanese Knotweed and wait for treatment to take effect or of the "invasion" is small enough, for the weed to be removed. Even after treatment or removal you will need to declare in your property information questionnaire that the property has a history of Japanese Knotweed. If you don't you may be in breach of consumer protection law, it's no longer a case of buyer beware in situations like this.
A recent study on the control of Japanese Knotweed, conducted in Wales, found that eradicating the plant is impossible in the short term. And that claims made by companies, stating that they could eradicate Japanese Knotweed using herbicides in short spaces of time have now been proven to be false, based on their experiments.  Read more on the BBC news website.
Selling a property with Japanese Knotweed
If your property or a neighbouring property has Japanese Knotweed growth and this has been confirmed by a certified contractor, then your options for sale will depend on its severity and distance from your property. If there is a risk of the roots affecting the foundations of the property then unfortunately a prospective buyer will almost certainly fail to obtain a mortgage. Having no choice but to sell to a cash buyer usually results in selling at a discounted price, which could be as much as 10% to 20% below market value.
If you need to sell to a cash buyer, there are a number of options open to you. Asking an estate agent to market your property to cash buyers only will usually result in them contacting their "usual" contact base of property investors who are looking for a below market value deal. Prices offered might be as much as 30% below market value (using the price if the property did not have Japanese Knotweed). Marketing the property to other cash buyers who are prepared to pay a bit more will take some time and subject to a high degree of uncertainty, the prospective buyer could back out at any point.
You could also contact cash buyer companies, although none (to our knowledge) have any focus on purchasing properties with Japanese Knotweed, the true cash buyers will buy anything, for a price! In our experience, there isn't a single cash buyer company who will offer more than an auction reserve price, even if their initial offer seems quite appealing, the exchange price will almost certainly be less than a reputable auctioneer's suggested reserve price.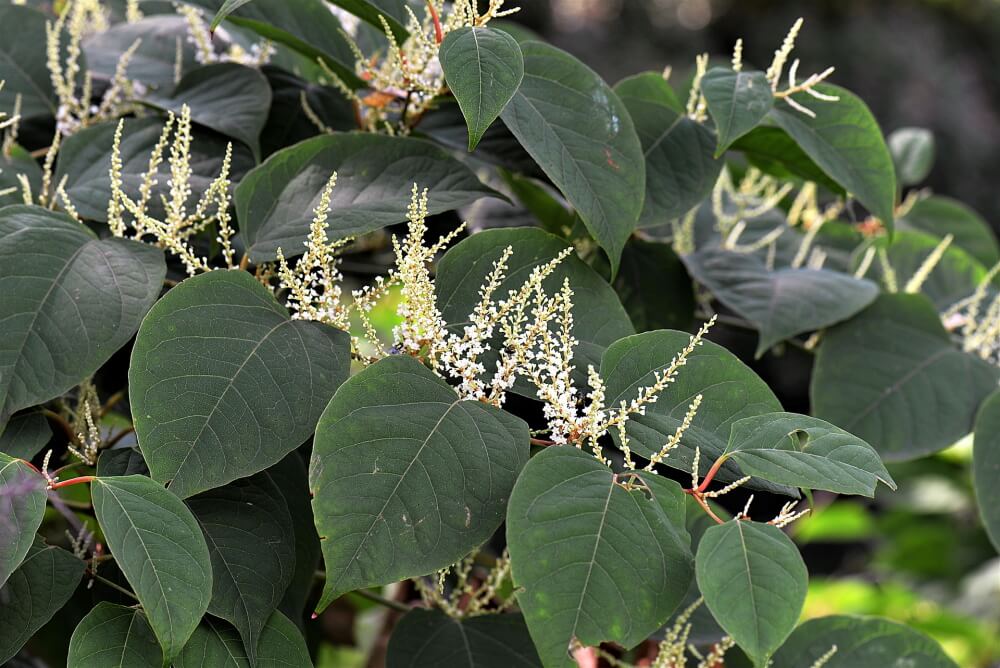 Auctioning a property with Japanese Knotweed
We're often asked by property owners who are considering an auction sale whether they need to disclose the fact that their property has Japanese Knotweed, the belief being that with all property transactions it's a case of "buyer beware". Fortunately times have changed; property owners can no longer temporarily hide or cut back invasive weeds for the new owner to deal with, at their surprise. The law does require you do disclose issues such as Japanese Knotweed.
Our advice when selling a property with Japanese Knotweed at auction is to disclose as much information as you possibly can. There will be prospective buyers who are prepared to take on any project and as long as they can be confident of the level of work required to the property.
The important thing to remember when selling a property with Japanese Knotweed at auction is that even if the property is currently only suitable for cash buyers, it won't be all that long until the buyer can obtain a mortgage. So unlike a property next to a cliff edge, that will never be suitable for a mortgage, prospective buyers will see the eventual opportunity of obtaining finance in the future. When selling a property with Japanese Knotweed at auction you will need to set a lower reserve price, perhaps 25%+ below market value rather than the usual 15%+ you would usually set for an auction sale, but as with all auction sales, the there is no upper limit to the sale price.
This article primarily deals with the issue of Japanese Knotweed growth on land and property. Other invasive and non-native plants commonly found include: Giant Hogweed, Himalayan Balsam, Rhododendron Ponticum and New Zealand Pigmyweed.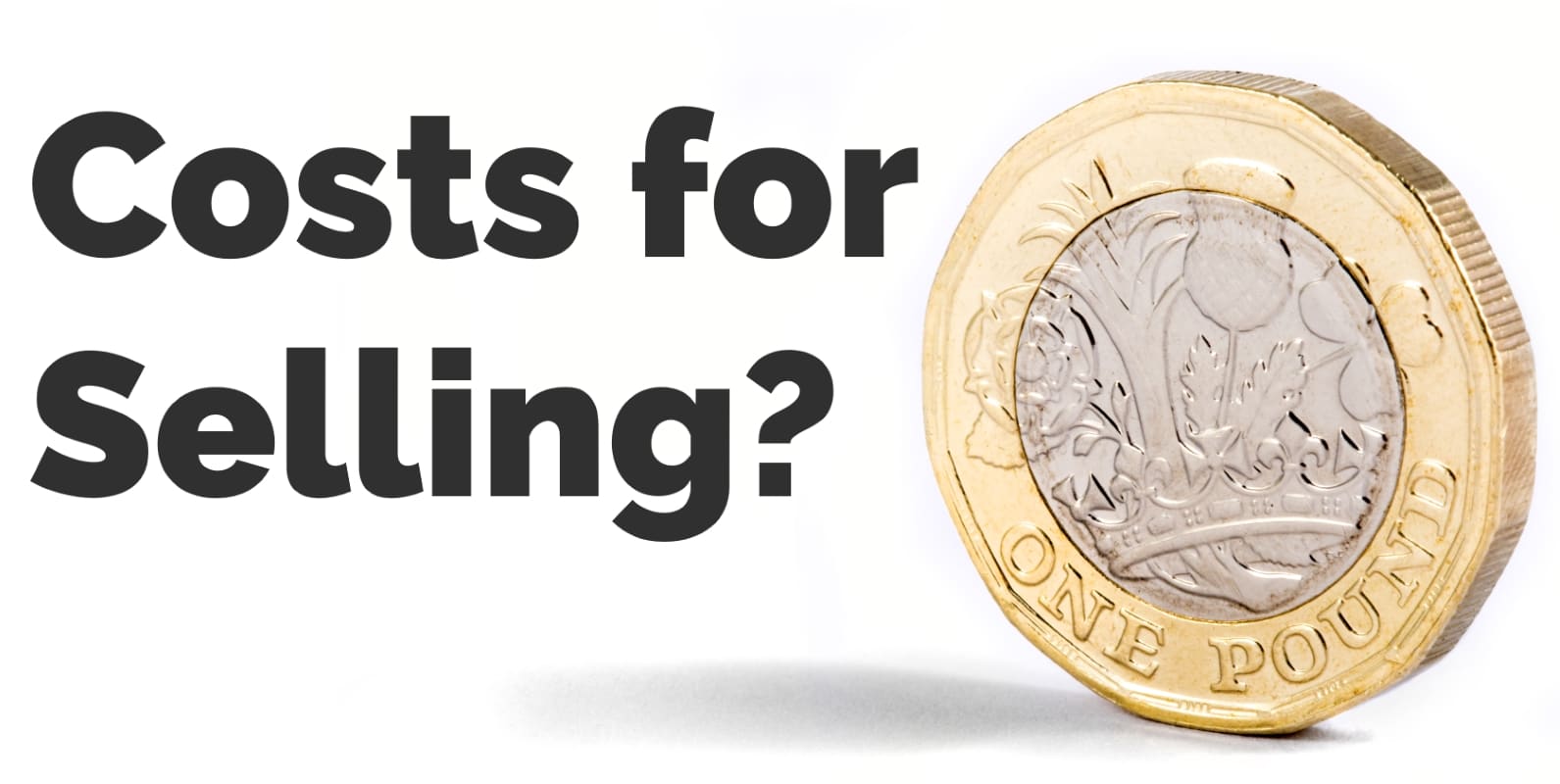 Need help choosing a property auctioneer? Please feel free to call us on 0800 862 0206 or send us an enquiry online.
Japanese Knotweed in the News
June 2020: Scientists from the UK Centre for Ecology & Hydrology are developing an artificial intelligence system to survey large areas for invasive and potentially damaging plant species.
Read more
.