Selling a Nottingham Property?
This guide is intended to help Nottingham property owners make an informed decision when selling their property. Is auction suitable for you and your property? How much do Nottingham property auctioneers charge?
Home:
 Auction Link
 » Selling a House at Auction in Nottingham
This guide is designed to help anyone interested in selling a property in Nottingham – either a residential or commercial property. The guide includes details of local property auctioneers and information about costs, timescales and the auction sale process as well as examples of recent auction sales in the Nottingham area.
Last updated by Mark Grantham on 30th January 2021
If you're thinking of selling your Nottingham property at auction one of the key points to consider is the auction reserve price. The reserve price is the minimum price your property will be allowed to sell for, and in most cases it's set at around 85% of market value. Most of the time a property will sell for more than the reserve price but there is a risk that if just one person turns up to bid on auction day then the property will sell for the reserve price. A good local auctioneer with a knowledge of the Nottingham property market will usually be able to assess a likely reserve price and final sale price of a property very quickly over the phone without viewing the property. Other considerations when selling at auction are the
auctioneers cost
and the
timescale
of sale.
There are a few criteria to consider when choosing an auctioneer. The first is whether to use a local Nottingham auctioneer or a national auctioneer (typically based in London). For niche properties, or high value properties with development potential it can be worth finding out if an auctioneer specialises in a niche. For example, some of the national auctioneers have a strong following of HMO investors.
In most cases property owners feel more comfortable appointing a local Nottingham auctioneer, just because prospective buyers will be able to attend the auction room more easily on auction day. If that's your preference then there are a few auctioneers to choose from in Nottingham. The questions you should be asking are:
1. Does the auctioneer have an auction that suits your timescale?
2. Has the auctioneer sold many properties in my part of Nottingham recently?
3. How do fees compare to other auctioneers, are they fair?
4. Is the reserve price reasonable?
Unless you're in a hurry to sell, don't rush into making any decisions. It's worth shopping around to make sure you find the right auctioneer for you.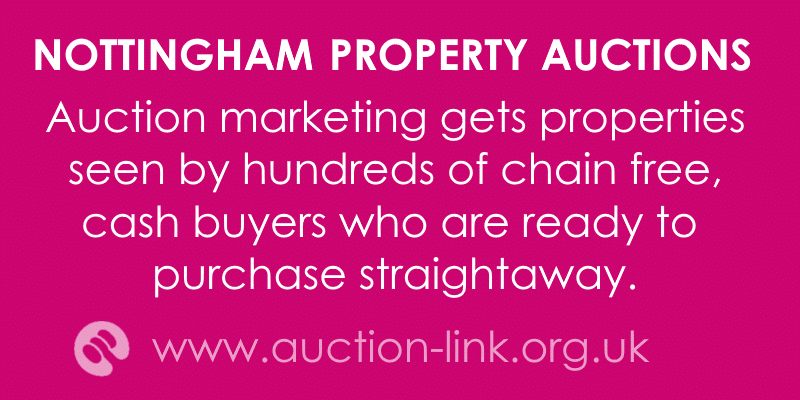 There are 5 main property auction companies operating in Nottingham, they are:
Auction Estates, 28 Regent Street, Nottingham NG1 5BQ
SDL Auctions (Nottingham), 9 Regan Way, Chetwynd Business Park, Chilwell, Nottingham NG9 6RZ
Wallace Jones, 27 Derby Road, Long Eaton, Nottingham, NG10 1LU
WA Barnes, Portland Square, Sutton-in-Ashfield NG17 1DA
The following examples are intended to give property owners a better understanding of the circumstances in which an auction sale can be beneficial.
Relocating for work
Jason was selling his family home on Runswick Drive, in Wollaton NG8. The house had been listed with an online estate agent for 4 months but had struggled to generate much interest. Since John needed to relocate away from Nottingham for work purposes in less than 2 months time he decided auction would be a good way to sell. Several suitable Nottingham auctioneers were contacted and a reserve price agreed upon. The property sold on auction day, giving John the opportunity to move house in good time and start his new job.
Inherited property
Louisa and her siblings had recently inherited a property in Tollerton, Nottingham from their mother. She and her siblings lived a long way from Nottingham and didn't want to waste time maintaining the property whilst they waited for a buyer through an estate agent. The property was in a poor state of repair and had not been updated for over 30 years, making it an ideal property for sale at auction. Once probate had been granted the property was booked into auction and sold within one month for considerably more than expected, thanks to the transparency of sale that auction offers.
Quick house sale
We often receive enquiries from property owners' looking for a quick house sale. Whilst many of the homebuyer companies offer a fast service, they don't offer anywhere near the full market value. We were approached by Hilary from Arnold in Nottingham, she was moving to the other side of Nottingham but her chain had recently fallen through and her sale was back to square one. A successful auction sale meant she was able to achieve a fair sale price in the quickest possible time and move into her new home in Hickling as planned.
When choosing an auctioneer to sell your Nottingham property it can be useful to take a look at future auction listings in the area. You can view Nottingham property auction listings on 
Rightmove
 and
Zoopla
 and if you keep an eye on the auctioneers website you will see what price the properties sold for.
Here are some past auction sales in in Nottingham to give you an idea of how much properties sell for at auction compared to estate agency sales.
Property address: 8 Wimpole Roas, Beeston, Nottingham, Nottinghamshire NG9 3LQ
Description of sale: Freehold, semi-detached house on two floors, with 4 rooms, unmodernised with garden. Sold with Savills Nottingham auction in September 2017 for £99,000.
Property address: 27 Baker Road, Giltbrook, Nottingham, Nottinghamshire NG16 2GA
Description of sale: Freehold, terraced house in reasonable condition with 4 rooms sold with Auction Estates in September 2017 for £85,000.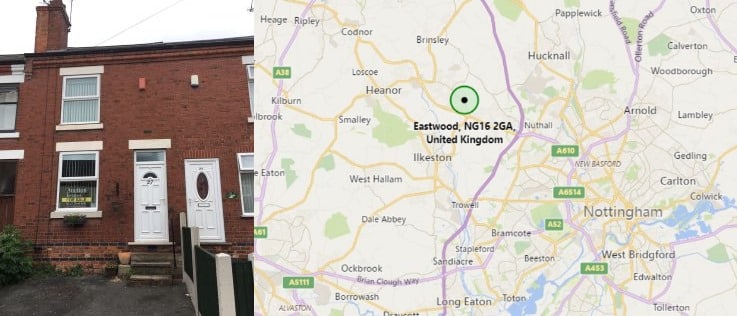 Thinking of selling your Nottingham property at auction? This guide will help you achieve a successful auction sale.
Prefer to talk?
Need help deciding if auction is right for you? Call 0800 862 0206 or request a call back for later.