Accepting an Offer Before Auction Day
It's quite usual for property sellers to receive offers from prospective buyers before auction day. And it can suit some sellers to agree a sale before the auction, just to have the sale wrapped up without delay. This guide outlines some points to consider when accepting an offer before auction day.
Accepting an offer before auction day – a guide for property owners. When considering whether to accept an offer before auction day, we are referring to offers presented to you by the auction company. If you have received an offer from a buyer who's contacted you directly, we always advise you to instruct the buyer to present their offer to the auction company, that way you will know the offer is genuine. Sometimes estate agents and property traders contact sellers directly urging you to withdraw from auction, telling you they have an offer on the table – these are almost always not genuine offers and can lead to lots of time wasting. Always refer offers to the auction company who will be able to negotiate with a genuine buyer on your behalf.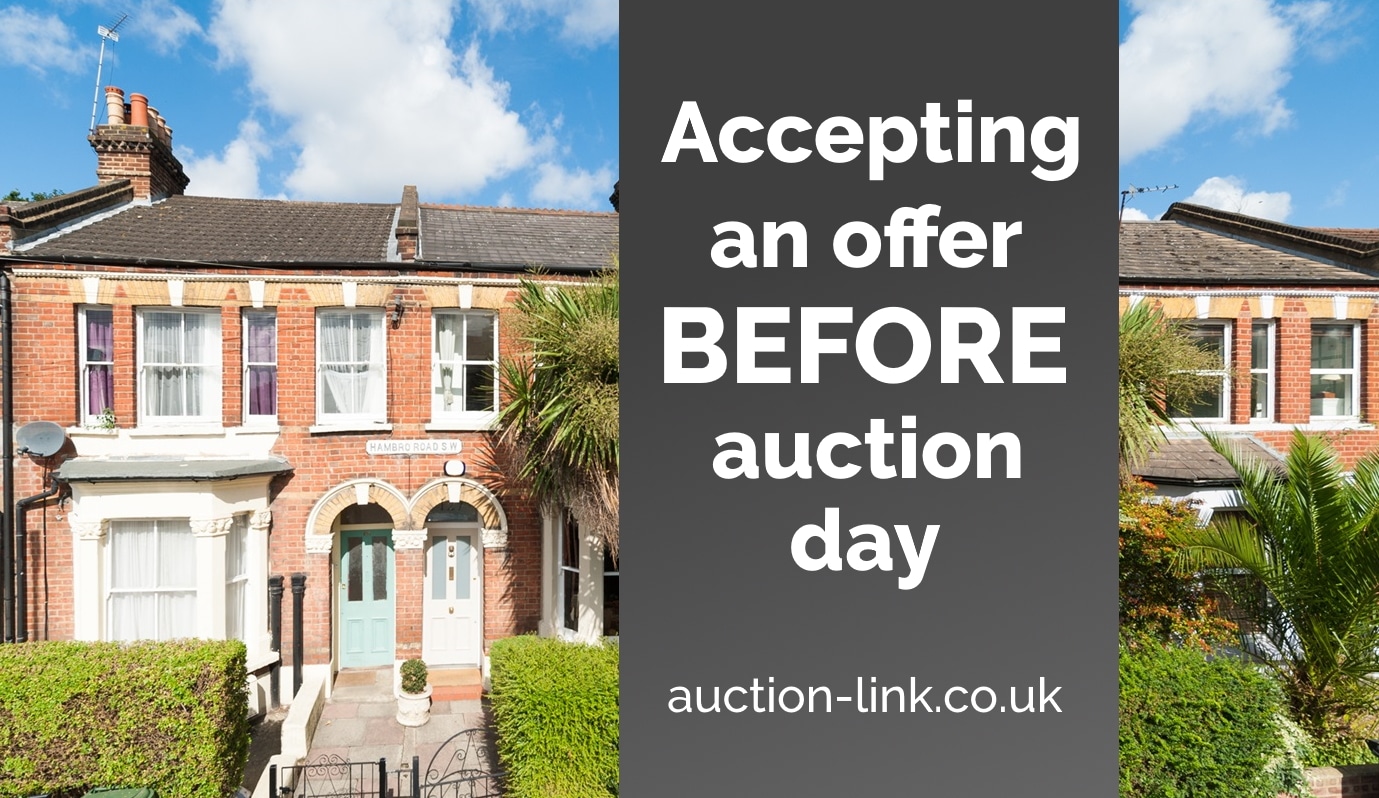 Some property sellers prefer the reassurance of securing a sale before auction, rather than waiting for auction day. If you decide to accept an offer before auction day the auctioneer will arrange for the buyer to pay a 10% deposit and exchange contracts for a legally binding sale. 
The auctioneer will provide you with feedback on the level of interest to help you make a decision on whether to accept an offer before auction day e.g. number of viewings, number of legal packs downloaded and number of buyers registered to bid (including telephone bidders and proxy bidders).  In most cases it's best to allow prospective buyers to compete for a property in the room – that's how you can be sure of achieving the top price.  However, if your circumstances mean that you have a strong preference of securing a sale before auction day, you will have that option.
Looking to sell your house or flat? Request a free auction sale estimate and or call our team on 0800 862 0206 to talk about the best options for you. 
Contact us to find out if your property is suitable for auction Request a free
pre-auction appraisal
 or feel free to call us on
0800 862 0206
 – we'll be happy to help.
If you're in a hurry to sell or just want the security of selling before auction day, let the auction company know your preference to sell before the auction. The auction company will then make a special effort to request offers from prospective buyers and negotiate a sale on your behalf before the auction.
Find an auctioneer
Need help choosing a local property auctioneer? Call 0800 862 0206 or send us an enquiry online.
"One real advantage of selling at auction is the competitive effect of having multiple bidders fighting it out for your property, bidding up the price within the space of a few minutes."