Sell Your House Fast for Cash
If you're selling a property that's not suitable for mortgage lending, or you just require a very quick sale, then you will need to find a cash buyer.  At auction cash buyers compete to purchase, ensuring you receive the best possible sale price.
A fast house sale usually requires a "cash buyer" who can complete quickly without having to satisfy the requirements of a mortgage company.
So how do you find a cash buyer? There are 3 ways, each having its advantages and disadvantages. This article looks at the speed, reliability and likely sale price for selling to a cash buyer (1) direct to a quick sale company (2) introduced through an estate agent, and (3) at public auction.
Last updated by Mark Grantham on 6th March 2020
If you need to sell your home fast, a quick search of Google reveals hundreds of "quick house sale" companies offering to buy your property quickly and hassle-free sale, the catch of course is they don't offer the full market value. That's understandable, and for some property owners that's a fair deal; if there's a risk of losing the chance to purchase your dream home because your property chain has broken, a house buying company can step in to fix the broken chain and save the day!
However, it's not as straightforward as that. If you dig a little deeper it becomes clear that many of the property buyer companies are not genuine purchasers, even if they say they are. The majority don't have the cash funds required to complete on the purchase. Instead, they either broker the purchase to another buyer (and take a cut for their fee) or use an option agreement or some other mechanism to make sure they profit from the sale of your property, even if you end up selling for considerably less or considerably later than expected! And the real problem with selling to a broker is you'll be locked out of selling to anyone else for several months, even then there's no guarantee of selling.
Quick house sale companies can be a good option if you need a guaranteed, fast, cash sale. But their offers are ALWAYS below market value. If you can spare an extra few weeks it's definitely worth considering selling at auction, where you could achieve up to 25% more for your property.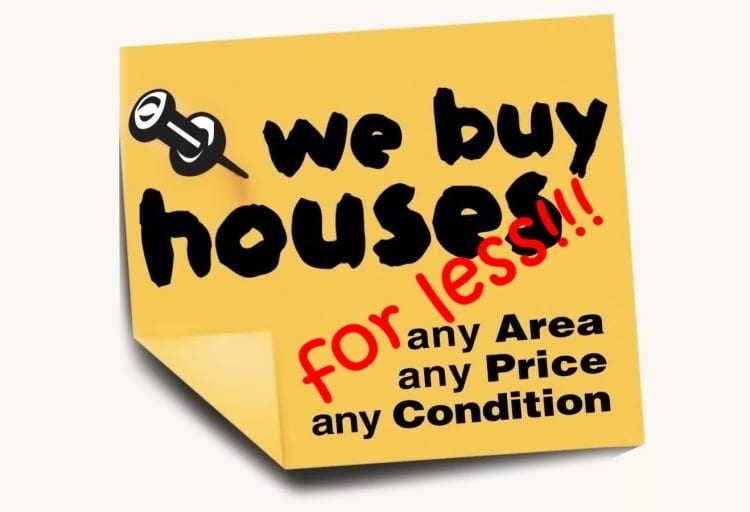 If you're in a situation where only the services of a quick house sale company will do, there are a few things you can do to help protect yourself:
1) Don't sign anything – a genuine cash buyer won't need you to sign any upfront agreements. If they ask you to sign an option agreement or anything similar then it's a clear sign they're not a genuine cash buyer. The only contract you need to sign is the contract of sale, and that will be provided to you by your solicitor.
2) Use your own solicitor – even if the property buyer offers you free legal services, our recommendation is to use your own solicitor. A solicitor appointed by the property buyer may be bias and there's a risk they won't provide you with all the information you need!
3) Ask for confirmation in writing – to ensure the property buyer is a genuine cash buyer ask them to send you an email confirming they'll be purchasing your property themselves, not brokering the sale to a third party. Also ask them to provide you with a copy of a recent bank statement showing funds are available for the purchase.
4) If the offer seems too good to be true, it probably is – remember that the property buyer is in business to make a profit and will be offering about 85% of market value at best, if they're offering more they're probably trying to get a foot in the door and the offer will almost certainly be reduced before exchange of contracts.
Whilst there are some genuine quick house sale companies who offer a good service and purchase with cash, in our experience the majority of quick sale companies are in fact property brokers. Even if the company has a professional looking website, with good reviews and is a member of a property ombudsman scheme it doesn't necessarily mean they're a genuine cash buyer.
The good news is that an estate agent is likely to find you a genuine buyer, rather than a broker (as described above). But that doesn't necessarily mean they've found you a reliable buyer.
Estate agents often say "cash buyer" even when the purchase is being partly mortgaged – which can add a lot of delay and uncertainty to the sale. Just as with quick sale companies, when you're dealing with estate agents ask them to confirm by email that the buyer is a genuine cash buyer and most importantly ask for a recent bank statement as evidence of cash funds. Don't be afraid to ask as many questions as you want, and ask for replies in writing. Estate agents are generally very good salespeople and where there is doubt they can do a very good job of offering reassurance, even if it's false reassurance. If the estate agent is using phrases like "I understand the buyer is…" or "as far as I know…" then they're not answering the question properly! If you're not getting concise answers, then you know where you stand.
❗ The trouble with selling through an estate agent or direct to a property buyer
(known as a private treaty sale)
is that you may be
unwittingly selling for considerably less than market value
.
Sale by public auction is different; it gives everyone the chance to bid for your property, not just the lucky individual selected by the estate agent!
Sometimes estate agents make property sellers feel like they're out of options, just to encourage them to accept a lower offer. And even though it's illegal, those low offers can be from the friend of an estate agent or someone who's offered the agent an incentive to source them a deal. These underhand deals go on all the time. To see for yourself just take a look at the National Association of Estate Agents (NAES) or The Property Ombudsman's (TPO) list of individuals who have been suspended from estate agency work. Those are just the agents who've been caught!
When selling your property through an estate agent or direct to a property buyer you will be selling by private treaty, in short this means you have selected one buyer (and one buyer alone) who is within their rights to reduce their offer before exchange of contracts without giving any explanation at all! Selling at auction is very different, and most importantly rather than being a private treaty sale auction offers a public, open and transparent sale.
The origin of the word "auction" comes from the Latin word meaning "to increase" and is a method of sale designed to have a buyer pay as much as possible without setting a ceiling price.
If you're under pressure to sell your property, don't panic! There's often some leeway offered by debtors such as banks, mortgage companies and HMRC, or even the courts if it's gone that far. Before you go rushing into accepting an offer from a property buyer, consider talking to the debtor and explaining that you plan to auction your property. If they see you're taking decisive steps to sell they'll know you're serious, and committing to sell at auction is about as serious as you can get! The added bonus for you is that you could sell for considerably more at auction compared to selling to a profit hungry quick house sale company!
And contrary to popular belief, selling at auction is actually fairly straightforward. Once you've signed the auctioneers terms of business, the bulk of the work is carried out by the auctioneer and your solicitor.
In our experience, a quick house sale company or property investor introduced through an estate agent will not offer any more than an auction reserve price. So if you need a fast house sale don't feel that you need to "panic sell" to a property buying company. It may well be that you'll sell for considerably more at auction, and just as quickly.
When weighing up your options, bear in mind that it's not just cash buyers that attend auctions, they're also attended by owner occupier buyers who might have plans to take out a mortgage – it's these buyers who typically offer considerably more for a property. It's estimated that one in three buyers at auction are "owner occupiers" and that number is said to be increasing, especially in times when market conditions are difficult for buy-to-let investors.
Looking for a Cash Property Buyer?
If you're under pressure to sell your house quickly, don't feel panicked into selling to a "quick house buyer" company or accepting the first offer you receive from an estate agent. You could sell for considerably more at auction, and just as quickly!
Find an auctioneer
Need help choosing a local property auctioneer? Call 0800 862 0206 or send us an enquiry online.