Disadvantages of Selling at Auction
Auction is one of the most reliable methods of sale available. And for some types of property the final sale price achieved can be significantly higher than selling with an estate agent. But auction isn't for everyone, as this article explains.
Home: Auction Link » Disadvantages of Selling a Property at Auction 
If you're considering selling your house or flat at auction, you will probably want to know what risks are involved and the disadvantages of auction compared to other methods of sale. This article provides details of the disadvantages of selling a property at auction and dispels some auction myths circulating on property information websites.
Some people find the idea of competitive bidding at auction to be an intimidating experience, so the audience of buyers will mostly be limited to property professionals; builders, developers and investors. However, the audience of auction buyers is changing. More end-users / owner-occupiers are choosing to buy at auction, recognising the benefits of a simple and speedy way of buying a property.
Auction is one of the most reliable methods of sale available, but if bidding doesn't reach the reserve price on auction day your property will remain unsold.
TIP: Just like with an estate agency sale, if you're relying on the proceeds of sale to purchase your next property, you will need to prepare for the eventuality of not selling. Your conveyancing solicitor can manage this situation by exchanging contracts on the purchase of your new home, only on the condition that your property sells auction.
Your property might achieve a final sale price much higher than the reserve price, but it might not.
TIP: If you're selling a property to raise funds for a new project, you should budget based on selling for the reserve price. Treat anything above the reserve price as an extra bonus!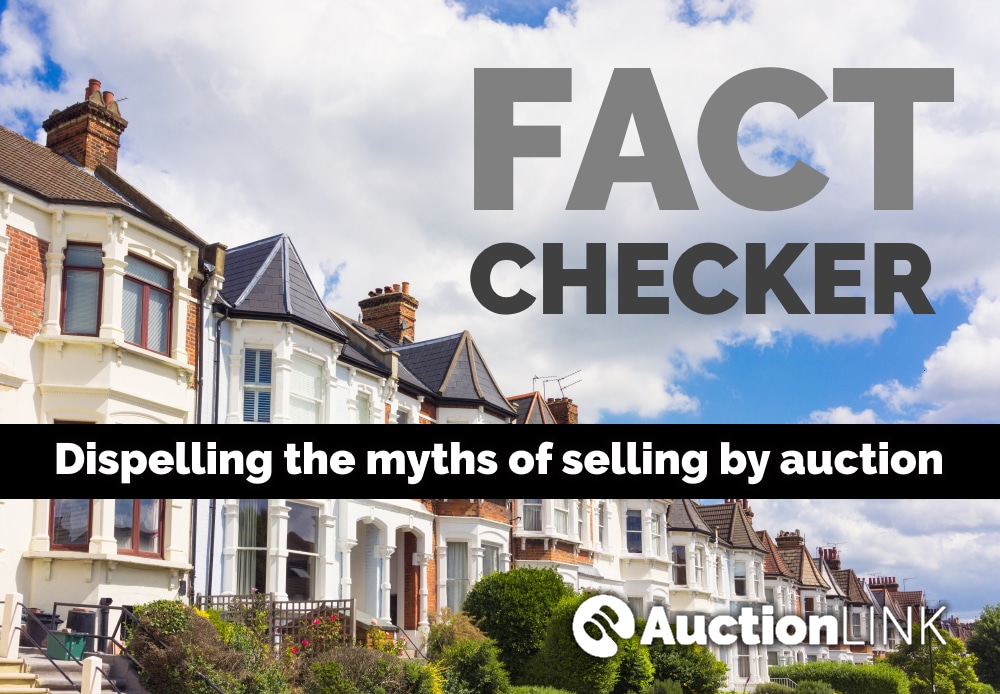 PROPERTY AUCTION FACT CHECKER: Some property information websites state very bizarre untruths about auction, typically overstating costs and making the process seem more complicated than it actually is. The following section addresses some of the common misconceptions about selling a property at auction.
Whilst it's true that some types of property may sell for more through an estate agency sale, properties with potential or in need of modernisation can usually be expected to sell for more at auction compared to an estate agency sale.
Most properties do successfully sell at auction, but there is no guarantee. Unsold properties are often sold soon after the auction, or can be entered into a later auction. There's no auction commission to pay if your property doesn't sell at auction, but you will have lost the cost of preparing the auction legal pack and payment for the catalogue entry fee.
TIP: Sometimes estate agents and other services competing against auction make up scare stories about the risks of not selling at auction. This is an underhand tactic to try and win your business. There is nothing to worry about if your property doesn't sell at auction and the auctioneers commission (typically 2% to 3% + VAT) will not be charged.
Any property can be sold at auction. The myth that only properties in poor condition can be sold by auction is probably because properties in a bad state of repair achieve higher sale prices at auction compared to an estate agency sale. So auction has become recognised as the way to sell properties poor condition. Auction's ideal if you're looking for a quick sale, whether your property is in good or poor condition.
We've seen some websites making false statements about the seller having to pay their solicitor to be present in the auction room on auction day. This is not true. There is no requirement for the seller's solicitor (or the seller) to be present at on auction day. All legal paperwork is prepared in advance of the auction and the contract of sale is ready for the buyer to sign.
Some estate agency websites suggest it's the vendors responsibility to organise viewings. This is not true. Auction companies typically conduct viewings on an open house / block viewings basis. A representative from the auction company will attend the property, open up, show people around and take contact details to follow up. The seller doesn't need to be present at the property, but we know some sellers like to be there to meet prospective buyers – which is of course fine.
Contact us to find out if your property is suitable for auction Request a free
pre-auction appraisal
 or feel free to call us on
0800 862 0206
 – we'll be happy to help.